Reinforcement of a pipe bed and manufacture of a bed guard
A commercial pipe bed may be cheap. It seems that however, the intensity of the top plate is weak. Moreover, since there is no bed guard, if you are sleeping, bedding may fall. I converted this at a low price by DIY.
A commercial pipe bed is reinforced with plywood and converted.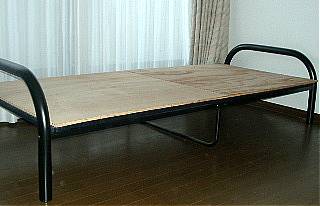 Although the easy pipe bed of a commercial structure is very cheap, the intensity of a top plate is not so good. If a person with heavy weight uses (whether it is made as an object for one person) or two persons ride simultaneously, the reinforcing material of a top plate or a top plate may be damaged.
Moreover, it is easy to sound "gi,gi" during use. I solved these faults simply at a low price.
This photograph converts a commercial pipe bed and reinforces it in plywood currently further sold at the home center etc. was attached on the screw on the portion of a top plate.
The top plate is divided into two the first. The board thickness of plywood is about 12 mm. Since the length of the portion of the top plate of a bed is about 1950 mm, two plywoods are needed, without one board being insufficient. Since the width of a bed uses the width of plywood as it is, it is set to 900 mm and becomes somewhat large. Please use the surplus board even for a shelf.
Although the weight of the bed after reconstruction increased considerably, it was completely no longer sound while in use, and the bed became very strong.
About a bed guard
If a bed is used, it may change sides, while you are sleeping and bedding and a blanket may become falling out of a bed. The thing to attach beside a bed is called bed guard in order to prevent this. Some are various also in a commercial item. It is as various as the thing which is attached to the bed from the start and which can be removed, the thing with which it covers on a bed and which it stops by the dignity of bedding, the thing to put on a floor, etc.
The bed guard made by SPF material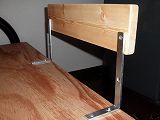 This photograph founds bed guard with DIY by SPF material and angle metal fittings on the converted pipe bed. What cut 1x4SPF material 19 mm in thickness and 89 mm in width in length of about 400 mm was used. I used the end material of the remainder as it was.
If SPF material is cut and prepared by a saw etc. , before assembling, the surface is ground by an orbital sander. Let's make it especially the portion of an angle become round. Otherwise, while using a bed, you may half be asleep, it may riot and hand and foot may be struck against this, and it may be injured.
Nothing was done about paint this time. White wood looks beautiful. Since the surface was smoothed especially by the orbital sander, it is still more so. Probably, you may finish with transparent varnish.
Probably, its iron will be cheaper although the angle used the strong thing made from stainless steel. Please use the strongest possible thing. Although these two metal fittings were used, when intensity is weak, please increase the number of metal fittings this time.
The height of a bed guard is about 200 mm from a top plate. In the one where this height is higher, bedding cannot fall easily. However, it becomes weak, if it is the same structure when it is made high.
If one side of a bed is installed near the wall, a bed guard will be OK if it makes only in one side.
A bed guard is very convenient.
It is a large difference if there is nothing with there being a bed guard after all. Since it is not necessary to carry out a fear of bedding falling out of a bed during sleep, it can sleep soundly. It can also prevent a low rebounding mattress shifting.