Tips on root-vegetables cooking (carrot, potato, burdock root, Japanese radish, taro)
The tips on cooking which eats root vegetables with good appetite by NHK were broadcast. Generally as for root vegetables, the skin and the circumference of it have much sweet taste and nutritional information. Since the tips on cooking of root vegetables were summarized, I introduce it.
Tips which eat a carrot with good appetite
As for a carrot, what has a thin portion of the core of the cut end of a root is delicious. Moreover, the outside portion of a carrot is more delicious than the portion near a core, and it is rich in nutrition. Let's make it not throw away the portion near the skin.
The portion of the core of the root of a carrot is a portion which sends moisture and nourishment to a leaf, and the portion of the outside of the root of a carrot is a portion which stores the nutritive substance made from the leaf by photosynthesis. The portion of a core is thin, and if an outside portion is large, many strong portions of nutrition or sweet taste are delicious.
The skin does not attach the carrot marketed other than the thing with the soil. The portion which was regarded as it being the skin until now and to which it was turning is an inner sheath cell. Compared with the average of the whole carrot, also 1. 5 times, 4 times and glutamic acid have much 2. 5 time and polyphenol, and carotene is contained in this portion.
Since a commercial carrot does not have the skin, for saving, it seals with a plastic bag and puts in to a vegetable compartment.
Tips which make a potato sweet
If a potato is stored at low temperature, there is character which becomes sweet. The method of increasing the sweet taste of a potato using this is performed as follows. It gets wet into the bag of polyethylene, etc. , it covers with a towel, and wraps and puts in a potato in a newspaper. If it seals just, it puts in and saves at chilled room (about 0-2 ℃) of a refrigerator. After about half a month is likely to be more than double the sugar content. The retention period be longer than one month let.
The sweet potato made in this way has a high sugar content, and since it burns easily, it does not turn to deep-fried dishes. Since it is decreasing, and starch boils and it collapses and is hard to carry out it, simmered dishes have been turned to.
low temperature -- saccharification is decomposing starch and changing into sugar, in order that a potato may protect self so that it may not freeze in cold if a potato is made into low temperature.
Tips which eat a burdock with good appetite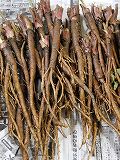 Close to the skin it is also delicious burdock, is recommended with the soil. Cooking is done to prevent contamination in the scourer. Traditionally, a removal action was not, I was actually abandoned the tasty ingredients. Had been active ingredient was not seems polyphenols. Polyphenols has worked to suppress the generation of reactive oxygen species, and antioxidants.
Many ingredients of a scent or flavor exist on the skin of a burdock, or the outskirts of it. The portion near the skin has more quantity of glutamic acid than the central part of a burdock.
How to make sweet grated radish like a watermelon
The grated radish made using the central part of the upper part of a Japanese radish is heated for about 10 minutes by low heat. Since the enzyme which makes sweet taste works at 50-70 ℃, it is slowly heated so that the temperature zone may be kept long.
If you want to make spicy radish on the contrary, lower the bottom portion of the radish peel grinding.
A taro is made sweet and it is for ice cream.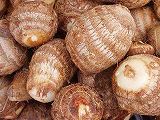 The unusual clever ice cream which is not until now can be made using a taro. This time, neither milk nor whipped cream is used.
How to make ice taro (4 servings) Recipe
A taro (200g) is steamed for 30 to 40 minutes the whole skin.
While it is warm, it soaks in water and strips off an outer cover by hand from a taro.
A potato is crushed with a musher etc. , and sugar (40g) is added and mixed.
Water (3 large spoon), lemon juice (1 small spoon), and salt (a little) and mixes.
Let cool frozen in the freezer for 3-5 hours to replace a suitable container.
Even if it puts in milk and whipped cream instead of water, it can do deliciously. Seemingly, it is delicious also before making it freeze. Don't you devise and challenge various tastes?