How to make dried persimmon (hanging persimmon)
Persimmons are dried to make the peel of a sour persimmon. Becomes insoluble in water exposed to bitter cold wind makes delicious persimmons.
Dried persimmon was hung and made under the eaves.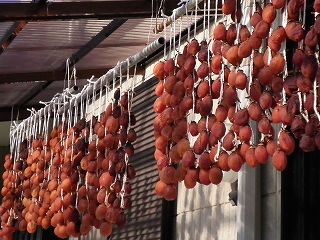 Since making the eaves hanging persimmons, persimmon also called "Tsurushigaki". Often taken in the following regions, like the rites of winter is making persimmon.
The quality thing which is common to be high-temperature in autumn which can take the influence of global warming and persimmon in recent years and for which it hangs and makes persimmon is becoming difficult.
Although this photograph was taken on November 8, 2011, for several of these days, it is high-temperature, it rained, mold grew in the persimmon, and it was serious. Since the fly and the bee came to the persimmon, it was also hard to drive off.
If it is made to dry at a stretch not using natural seasoning but using a dehumidifier, I think that a dried persimmon will be made well. It experiments and the place of cod roe reports when well.
How to make dried persimmon
To make persimmon, first astringent persimmon (Saijo Persimmon better) Peel off the skins. Part of the calyx of the persimmon is used when it is left hanging in the straps. And dried to make it easier, we have attached to the cord. Had a poor take what is, etc. Plug-dry bamboo skewer.
In order to disinfect the surface of the persimmon, soak in boiling water for about 15-30 seconds. Dry shortly thereafter hung under the eaves. Dry place, the reports no rain, well-ventilated and well at the sun shining. Hang open space adequate to overlap the persimmon.
It is important to evaporate excess water at a stretch first. When it rains and mold grows, boiling water disinfection is carried out once again. In order to protect persimmon from a fly, an insect, or a bird, a dried persimmon will be covered in a network. In this case, probably, you may cover in a network, when it is fine, since ventilation worsens.
If it dries for two to three weeks, persimmon will be rubbed by hand. When using a harder dried persimmon, it dries several weeks. Then, it is indoors kept for several days and lays down.
It dries once again after that. White powder blows on the surface of persimmon by rubbing persimmon at these days. This powder is not mold. The ingredient of fructose mainly crystallizes and comes out out of persimmon. It is a sweet and delicious proof.
If it completes, it seals and saves in a refrigerator etc. so that mold may not grow. Even if it takes and freezes a seed, it is eaten with good appetite.
Nutrition of dried persimmon
Many nutrients, such as minerals, such as a dietary fiber, potassium (K), and manganese (Mn), and carotene, are contained in the dried persimmon. However, by drying, most is lost and vitamin C is hardly contained.
Since moisture of a dried persimmon decreases by drying and nutrition and sugar are condensed 3 to 4 times, it is food with sweet and abundant nutrition.